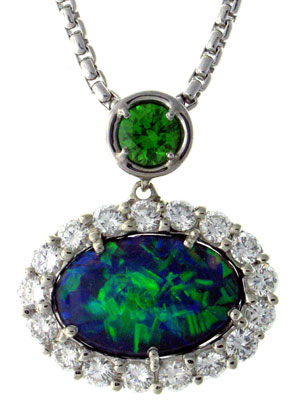 Pacific Gemological Laboratory, Inc. (P.G.L.) is located in downtown Portland, Oregon, and is one of the Pacific Northwest's oldest (established in 1988) and leading jewelry appraisal service firms. We offer a wide range of expertise in gems, jewelry, and watches and are the only Jewelry Appraisal Lab in Oregon with an Accredited Gemologist Association (AGA) Certified Gemological Laboratory, #38.
Pacific Gem Lab prepares professional, accurate, and affordable jewelry appraisals, certifications, diamond grading, and colored gemstone identifications. In addition we provide consulting and expert witness services, as well as lecture and seminar presentations for civic and professional groups.
Appraisal Reports
In most cases our gemologist/appraisers can assist you while you wait and you can leave with your completed document; for complex items or clients with many items, more time may be required. Your report folder will include complete descriptions of your jewelry with diamond and colored gemstone grading along with pictures of your items and a complimentary PDF copy of your report. We also have a complete portable laboratory available to work with clients off-site. Our gemologist/appraisers have over 115 years of combined experience in the jewelry industry and we prepare reports and advise our clients on vintage and antique jewelry as well as evaluations of modern jewelry, diamonds, gemstones, and watches. All of our appraisers are Graduate Gemologists (GIA), and are accredited and certified in the leading appraisal and gemological organizations worldwide. At PGL we work hard keeping current with the ever changing markets for gems and jewelry and up to date on current gemstone and diamond treatments as well as synthetic or man-made gemstones.
About Pacific Gem Lab
Pacific Gem Lab is re-certified yearly through professional affiliation examinations and inspections. We are a certified and accredited laboratory through Accredited Gemologists Association (AGA) and the American Gem Society (AGS.)
All of Pacific Gem Lab's business is conducted in conformity with the Uniform Standards of Professional Appraisal Practice of the Appraisal Foundation, and the Principles of Appraisal Practice and Code of Ethics of the American Society of Appraisers.
Pacific Gem Lab is owned by Mona Miller. Ms. Miller's qualifications include
Graduate Gemologist, GG GIA, In Residence
Fellow of the Gemmological Association of Great Britain, FGA
Senior Member - Master Gemologist Appraiser and Fellow of the American Society of Appraisers, ASA and FASA
Accredited Senior Gemologist, AGA
Independent Certified Gemologist Appraiser, American Gem Society, ICGA
Senior Member, National Association of Jewelry Appraisers, NAJA
Member of Jewelers Vigilance Committee
It is our sincere wish to be your source for professional appraisal services. We set the standard in the Pacific Northwest and are in compliance with the current Uniform Standards of Professional Appraisal Practice. We look forward to doing business with you.